As era is changing and world has become a global village. Today we are living in a village which became very small with the help of social media. Each day we spend hours and hours on social media or internet while surfing different things of our own interest. Though many researchers are spending time and doing research to calculate, like how much time one spend on social media per day? A recent research shows its about 3 hours a day one spend on social media.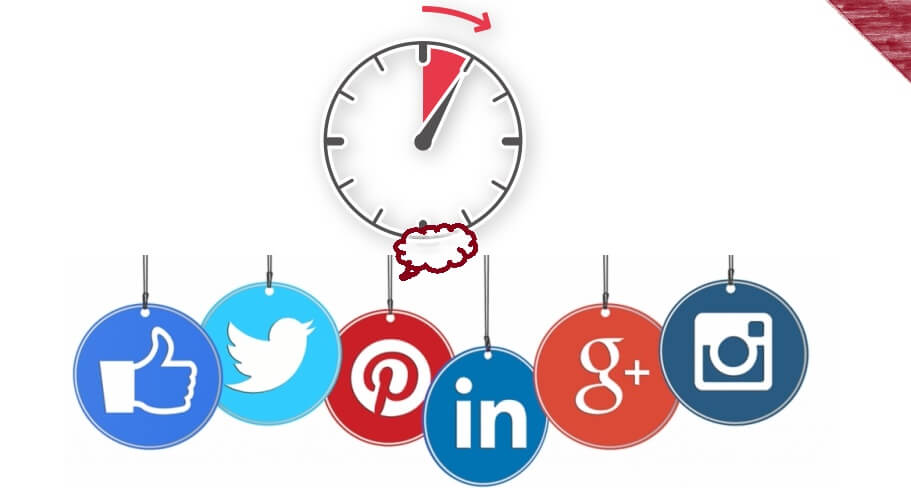 However, do you ever wonder how much time do you actually spend on social media? And what about others in the same demographic as you? And what do or you friends keep posting on social media each day? Have you heard even news and watch glimpse of Cricket/football matches on social media?
Average Time spent on social media
In 2018 a research was conducted and it is observed that many countries that were previously showing growing signs of social media utilization are now plateauing. In fact, in 11 out of 31 countries analyzed, the time spent online has either stayed the same or decreased from the previous analysis.
And some countries did exhibit a significant increase in time spent on social media. For example, today in the Philippines, an average internet user spends 11 minutes more per day than they did in 2017. Similarly, UAE and Saudi Arabia have also shown a significant increase in time spent on social media since 2017 and is growing steadily.
Research shows that people belonging to different regions were spending different amount of time on social media. Its 1:30 hours to 4:09 hours.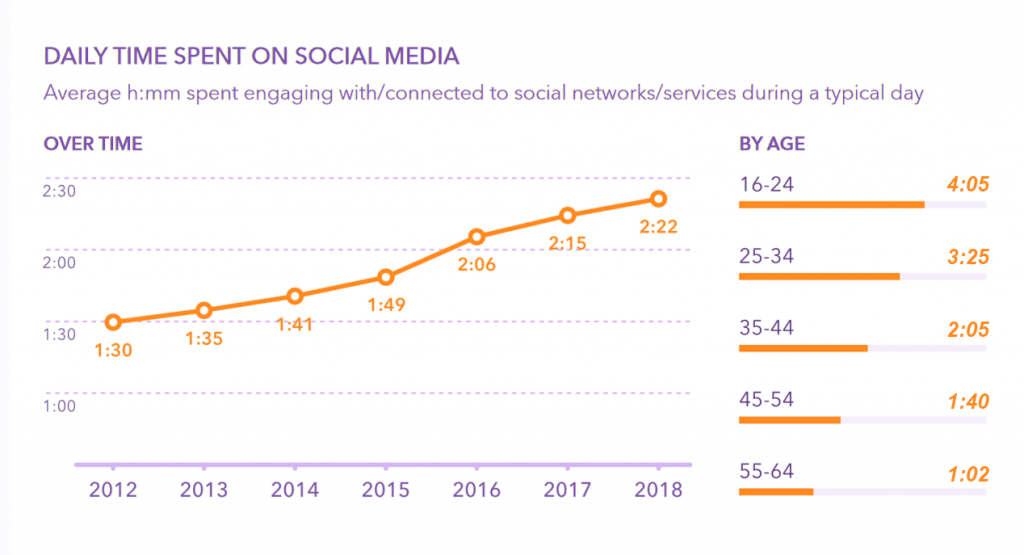 Researchers also found that with the passage of time over the years, average time spent on social media gets increasing. It was also observed that most of the time spent on social media was young generation having age between 16 to 24 years and their average time on social media was 4:05 minutes.
Average Daily Time Spent Per Age Group
| | |
| --- | --- |
| AGE | TIME SPENT |
| 16-24 years | 4:05 hours |
| 25-34 years | 3:25 hours |
| 35-44 years | 2:05 hours |
| 45-54 years | 1:40 hours |
| 55-64 years | 1:02 hours |
Roughly 45% of the world's population use social media, with an average of 2 hours and 23 minutes spent per day on social media
Average Daily Time Spent Per Social Media Platform
| | |
| --- | --- |
| PLATFORM | TIME SPENT |
| Facebook | 58 mins |
| Instagram | 54 mins |
| Youtube | 40 mins |
| Snapchat | 35 mins |
| Twitter | 03 mins |
When we talk about social media platforms, its Facebook which leads the pack, with an average of 58 minutes spent per day on the social platform. People generate and upload posts and status each day.
Between April and September of 2018, 83% of all internet-users were engaged with social media. And only 24% of those find it has a positive effect on their work.
In 2019, 3.48 billion people use social media, and 2.23 billion of them are active monthly users on Facebook.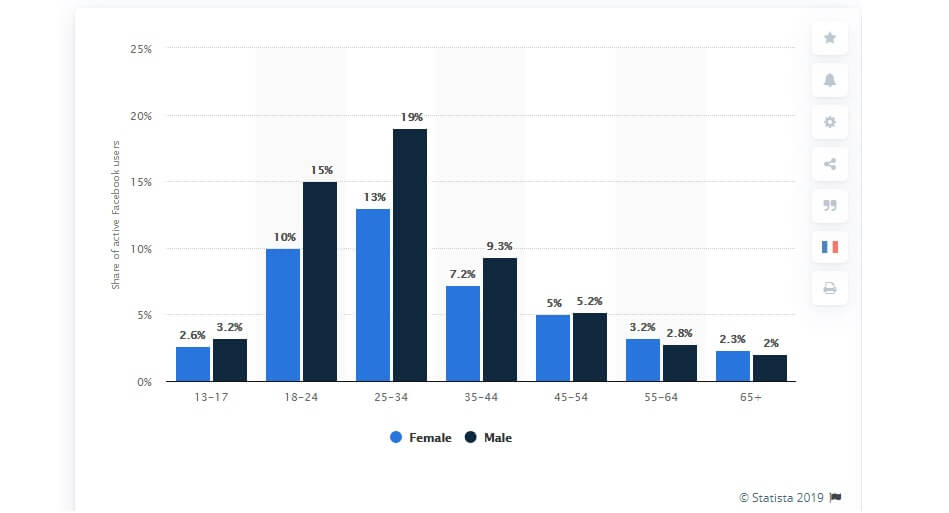 The biggest social media platform is mainly used for networking. However, media watching has always been a part of Facebook – be it uploading a photo or streaming a video, we still spend a lot of time on the site.
An eMarketer research shows US citizens (aged 18+) spend 43 minutes per day on Facebook. This is a seven-minute increase compared to the rates in 2014. It usually consists of one longer visit and lots of shorter ones.
YouTube maintains a solid second place in the "most used social media" category.
79% of all internet users own a YouTube account (Facebook sitting at 85%). However, the video and streaming platform has the most active users – 86% of all people on the Web visit it actively.
The majority of them point out entertainment as their main reason to visit the site.
Conclusion:
Since technology revolution is going on, people are indulging into technological activities. Social media is by product which today has grown enormously and have become a very big market. And people most of their not only free but enjoyment times are spending on social media platforms.