Generate fake WhatsApp Chat for iPhone with Fake WhatsApp Chat Generator for iPhone tool. Digital content marketing has been never easy. A decade ago, this term was not in discussion. But as of today its very common and without digital content marketing, any business can survive.
So marketing department need to move to digital platforms. But to train their staff they can not put them in real environment by investing money on advertisement.
So zeoob provides social media simulators, which you can use to train your staff and students by creating marketing content without actually positing on social media. Use Fake WhatsApp Chat Generator for iPhone to generate marketing content for educational purpose.
Generate Fake WhatsApp Chat with best Fake WhatsApp Chat Generator for iPhone tool to create your marketing content. Add your desired content, images, sender 1, sender 2 messages and save it as png/jpg or directly share on social media.
If you already know, how to use Fake WhatsApp Generator, then skip this tutorial and directly visit the tool and generate your desired fake WhatsApp chat for iPhone.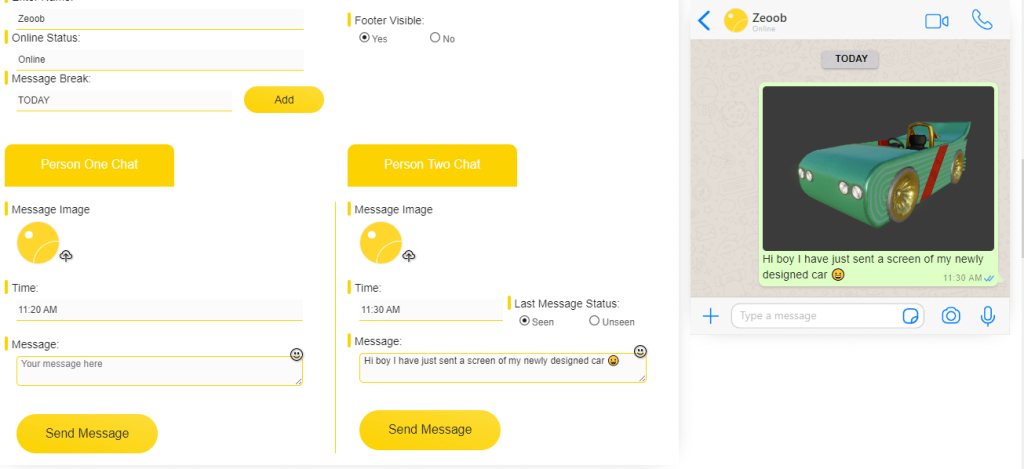 Steps to follow to generate fake WhatsApp Chat for iPhone
Open https://zeoob.com/generate-whatsapp-chat/ to generate fake WhatsApp chat for iPhone.
Scroll down and you will see 2 panels
Left side panel is for you to customize your fake WhatsApp chat
Right side panel is the live preview of your fake WhatsApp chat
Type the name of your WhatsApp contact (receiver)
Upload the profile picture of the receiver, to whom you want to send message.
Type the status of receiver. It can online, offline or empty.
Switch layout of your WhatsApp chat from Android to iPhone.

Click on iPhone icon to setup iOS theme of WhatsApp chat.
Now below you will find Person 1 Chat and Person 2 Chat
Person 1 is the receiver and Person 2 will be the sender, who is sending the message.
You can upload the picture and click on send message button to add message into your fake WhatsApp Chat.
Perform same steps for sending message for both sender and receiver.
You can send message with image, without image, text with image, only image or only text message.
To send message with image, click on upload icon next to "message image". You can find message image in both sender and receiver chat panel.
You can also add emojis by clicking on Emoji icon for each person.
You can add message break with desired date.
Also you can setup last seen as "seen" or "unseen" for sender message.
You can show or hide header part of the chat that shows profile name, picture of call icons by WhatsApp.
You can also show or hide footer part of chat that shows "Type a message" area provided by WhatsApp.
Once you have added your desired messages and built your fake chat, you can click on "Save Chat" button that is visible under chat preview.
After few seconds two more buttons will show up under the "save" button. Picture uploading can take some time so be patient and wait for the share buttons to appear under save button for few minutes, to save content in clouds.
Download your fake WhatsApp chat as an image on your computer. This tool is easy & best fictional WhatsApp Chat Tool for school, teachers and student.
Features of fake WhatsApp chat generator for iPhone
WhatsApp Editor – Our fake WhatsApp chat generator tool is very easy to use. You can edit fake WhatsApp chat template with pencil icons and directly edit the chat.
Support iOS layout – Generate fake WhatsApp chat with iOS and Android. Users can easily switch between iOS and Android layout based on your convenience.
Support background – Add custom background image to your fake WhatsApp chat with this tool.
Support emojis – You can use emojis while building fake WhatsApp chat. You can also use your own mobile/device emojis.
The most realistic WhatsApp chat Design – Our WhatsApp chat template is the most realistic fake WhatsApp chat generator having the latest updates of WhatsApp.
Live Preview of your editing – Our tool lets users edit and simultaneously preview the customization done in real-time to make further changes accordingly to your fake WhatsApp chat.
---
Disclaimer
This tool is only for educational purpose to help teachers to train their students. This generator is not the slightest bit related with WhatsApp. All graphical material is ensured by the copyright proprietor. May just be utilized for individual use.