I will tell you How do you start social media marketing today. Its quite easy thing and you will surely love it. Since the world has become a social village, its positive effects risen in the form of Instant information delivery. In early days, it was very difficult to spread a news in even a small city.
But today as technology has revolutionized the world, so it became very easy to spread your message and news with in just few clicks. And its just shared to your audience with in seconds.
Social media marketing first started with publishing. Businesses were sharing their content on social media to generate traffic to their websites and, hopefully, sales. But social media has matured far beyond being just a place to broadcast content. So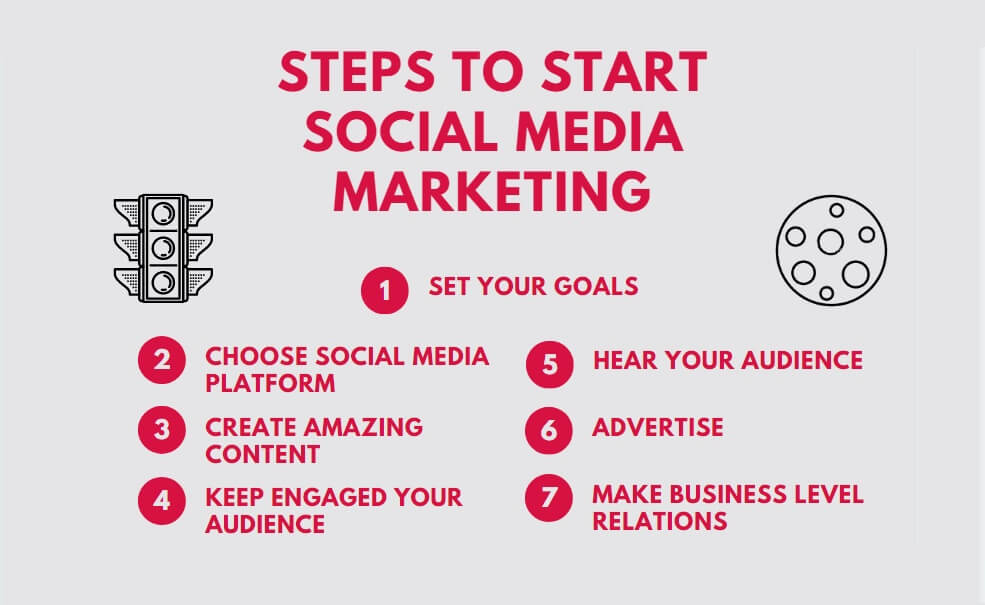 7 Steps to Start Social Media Marketing
Here are the 7 steps that you can perform to get start social media marketing for you business, product or service.
1) Set Your Goals
Before you dive into any work, you obviously need to know what and when and where you will be doing your work and what is its expected output and its worst case scenarios too. So before you dive right in and publish something on social media, let's take a step back and look at the bigger picture.
The first step is to think about your social media strategy. You need to make plan and do critical analysis like how can social media help you achieve your business goals? You need to know like what exactly you are looking for and how social media can help you.
2) Choose Social Media Platform
Before starting social media marketing, you obviously need to know your audience. Like who are those which you want to present your product or service? So step 2 is to define your target audience. Its very crucial so do deep analysis and then better decide.
Below are some points which you need to focus before setting up target audience for your business;
What age group you should target
What should be target audience gender
What should be region of target audience
Ethnicity of your audience.
To decide about target audience, you obviously need to keep in mind your product that you want to present. Then you can better decide your target audience. Then you will need to do critical analysis on the list of social media platforms.
You will need to check each social media platform users and do its analysis by keeping in mind your target audience. Like if we talk about Twitter, we see normally twitter audience stays for very less time on Twitter as compared to Facebook.
Research says a person spends about 3 mins per day on Twitter. But when we check Facebook it average 1 hour that a user spends each day on Facebook.
Learn how much time one spend daily on social Media?
3) Create Amazing Content
What type of content? Its the most important thing, what do you want to convey and how to do you want to present it to your target audience. Lets focus on what kind of content you need to produce that can attract your target audience and convey your desired message.
Once you know where your audience spends time and what kind of content audience members want, take the time to give them more of that kind of content.
Ideally, you'd have a combination of different elements. Try to balance your own original content with valued, content curated from other sites.
Search for those "nuggets" of content that your audience will value, but might not otherwise find. Balance your original content with the content you curate and share. If you only share content from other sources, you'll just seem like you're leeching off of others hard work rather than doing your own.
If you only share your own content, you'll seem too promotional and sales-y. A nice balance will make you appear knowledgeable, worthwhile and humble
4) Keep Engaged Your Audience
Keep your audience engaged by sharing continuous content. You need to keep your audience updated and do not let them forget you. To do this you will need to publish your content after particular frequency.
This doesn't mean that you post 300 posts in just one day and leave rest of month mute. You will need to keep engaged your target audience. There are now a variety of social media scheduling tools, that can help you publish your content automatically at your preferred time.
You can schedule your posts at once and then let that software to publish your content at the particular interval. This saves you time and allows you to reach your audience when they are most likely to engage with your content.
You might need to use some kind of tool for coordinating all of your social efforts. Investing in a social media management platform – say, an application like Hootsuite , Sprout Social or Sendible will give you a convenient centralized dashboard.
This way, all your social media logistics will be viewable on a single screen. There are a number of social management platforms available – research and select the one that is right for you.
5) Hear Your Audience
Most of the social media platforms allow businesses to take their customers response and also allow businesses to respond them. If we talk about Facebook, you can respond and setup auto responding text messages in your chat as well. Twitter also does like this.
You also need to take care of comments, suggestions, mentions on social media platforms. Take care of customer suggestions seriously. Resolve your customer issues and properly respond them on time.
Keep an eye on social media, specially mentions and check how social users are discussing your business or your product.
6) Advertise
Its not mandatory to advertise, Even you prepare your marketing content and share with your target audience with the help of some social media, then you are actually doing social media marketing. Advertising on the social media can be the part of social media marketing. Social media platforms are always evolving.
When Facebook first started, people can only share text updates. Now, there are so many content formats such as images, videos, live videos, and Stories.
Facebook has also added a proper way for advertising on Facebook. There are many advertising companies including Facebook Ads, Google Ads(Youtube as well) even Twitter Ads also help you to advertise you business or product on social media.
7) Make business level relations
If we talk about social media we can also call it as "social networking" and there's a reason for that – there is no better place than the Internet to network and make key connections with others. You should be using your social presence to build relationships that might help you later.
This can include any number of strategies. You might use LinkedIn for reaching out to potential hires and to bypass the gatekeepers at various companies you would like to work with.
Twitter is a great place for sharing content with industry thought leaders. Facebook helps you bond with local people in the community who might become customers.
Everywhere you look on social media, there are opportunities to make connections. Try to get your business verified on social media. This will help you a lot to build business connections and have good relationships with others. Increase your audience in the form of followers.
But also keep in mind to bring audience close with the help on original effort instead of going into short-cuts and purchasing fake audience. Obviously it will not help you rather it will hurt you.