Fake Tweet Generator is a simulator that simulates Twitter tweet. A simulation is the re-creation of a real world process in a controlled environment. Zeoob provides Twitter simulator to simulate Twitter tweet.
Zeoob.com provides an easy Tweet generator. That teachers and students can use for training sessions as well as to generate marketing content. Zeoob's Fake Tweet generator allows you to quickly simulate very realistic Twitter Tweet. Tweet can have text, images, emojis and Fact-check warning. An awesome tool for teachers to create Fake Tweets and use in the class. 
Tweet Generator is a (web based Twitter tweet mockup) to create as many Fake Tweet without any limit. Zeoob provides Tweet Generator for both mobile operating systems. You can generate fake Tweet in Android and iOS layouts.
With our latest update to tweet generator tool, you can switch between light, dim and dark theme.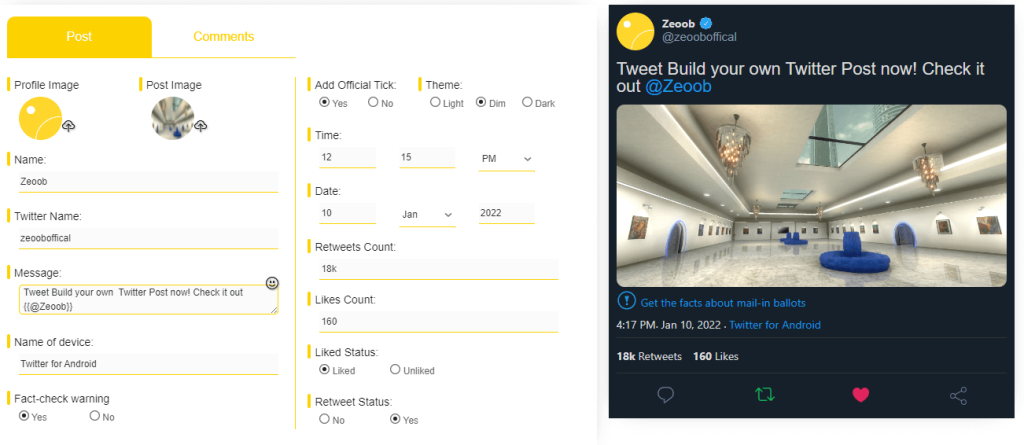 With our Fake Tweet generator you can easily customize and create tweet in few seconds. Make Fake tweet template like you want. You can upload your photo as a profile picture, of another person or celebrity, depending on your desire. Type the text you want, the image you want to share, mention people in the Tweet, add hashtags, and more to make it look realistic. You can also have a live preview of the changes you make before you download.
Top Features of Fake Tweet Generator
Tweet Editor – Our fake tweet generator is very easy to use. You can edit fake tweet template with pencil icons and directly edit the tweet.
Support iOS layout – Generate fake tweet with iOS/iPhone and Android. Users can easily switch between iOS/iPhone and Android layout based on their convenience.
Support different themes – Our tweet generator supports dim theme, light theme and dark theme. You can easily switch in between these themes.
Support comments – Add as many comments to your fake twitter tweet with this tool.
Support reply chain – Add as many reply chain to your fake twitter tweet with this tool.
Support emojis – You can use emojis while building fake tweet. You can also use your own mobile/device emojis.
The most realistic tweet Design – Our tweet template is the most realistic fake tweet generator having the latest updates of Twitter.
Live Preview of your editing – Our tool lets users edit and simultaneously preview the customisation done in real-time to make further changes accordingly to your fake Twitter tweet.
Advantages of Tweet Generator tool
A simulation tool can help you to mimic the original tool.
Tweet Generator for Schools
Content Creation of Digital Marketing
Learning digital content marketing is never easy. Choosing right sentences along right images needs practice. So you can not afford to do this practice and learn by posting actual content on social media and spend money on advertisement. Digital content marketing has been never easy.
A decade ago, this term was not in discussion. But as of today its very common and without digital content marketing, any business can survive. So marketing department need to move to digital platforms. But to train their staff they can not put them in real environment by investing money on advertisement. So zeoob provides social media simulators, which you can use to train your staff and students by creating marketing content without actually positing on social media. We have developed a very easy and fast Tweet Generator. Which you can use and make best marketing posts.
Teachers can create fictional Twitter Tweets. Students could be asked by teachers;
What are the most important people in this tweet screenshot?
What was their most important moment within the tweet?
What hashtag could they maybe use at the end of the tweet?
---
Disclaimer
This tool is only for educational purpose to help teachers to train their students. This generator is not the slightest bit related with Twitter. All graphical material is ensured by the copyright proprietor. May just be utilized for individual use.