WhatsApp Chat Simulator is a program one that simulates; especially : that enables the operator to reproduce or represent under test conditions phenomena likely to original WhatsApp. A simulation is the re-creation of a real world process in a controlled environment. Zeoob provides WhatsApp Chat simulator to simulate WhatsApp chat.
Why is simulation important in education?
Well simulation allows students to change parameter values and see what happens. Students develop a feel for what variables are important and the significance of magnitude changes in parameters, data issues, probability and sampling theory. Simulations help students understand probability and sampling theory.
WhatsApp Simulator by zeoob
Zeoob provides an easy WhatsApp chat simulator. That teachers and students can use for training sessions as well as to generate marketing content. Zeoob WhatsApp chat simulator allows you to quickly simulate very realistic WhatsApp chats. Messages in the chat can have text, images, emojis and message breaks.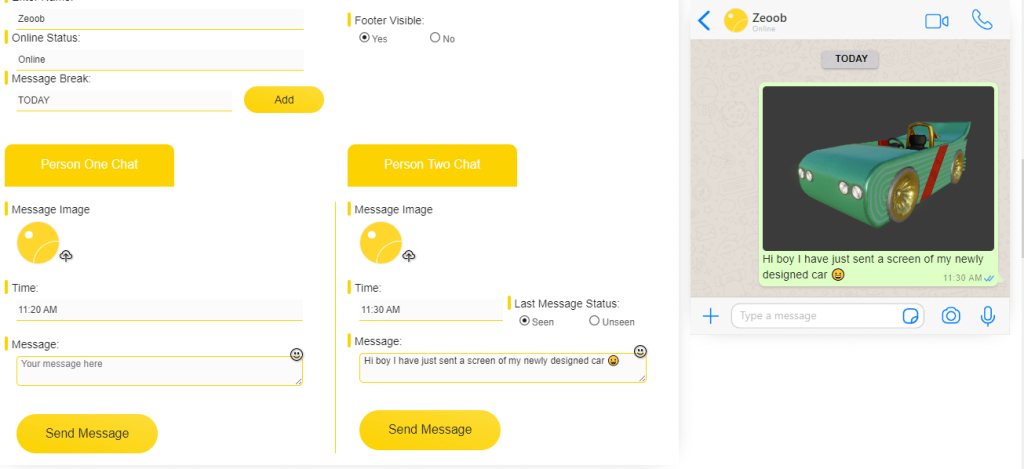 WhatsApp Chat Simulator is (web based WhatsApp chat mockup) to create as many Fake WhatsApp chat without any limit. Zeoob provides WhatsApp Chat simulator for both mobile OS. You can generate fake WhatsApp chat in Android and iOS.
With our Fake WhatsApp chat simulator you can easily customize and create an WhatsApp chat in few seconds. Make Fake WhatsApp chat template like you want. You can upload your photo as a profile picture or of another person or celebrity, depending on your desire. Type the text you want, the image you want to share, mention people in the WhatsApp chat, add hashtags, and more to make it look realistic. You can also have a live preview of the changes you make before you download.
Features of WhatsApp chat Simulator
WhatsApp Editor – Our fake WhatsApp chat simulator is very easy to use. You can edit fake WhatsApp chat template with pencil icons and directly edit the chat.
Support iOS layout – Generate fake WhatsApp chat with iOS and Android. Users can easily switch between iOS and Android layout based on your convenience.
Support background – Add custom background image to your fake WhatsApp chat with this tool.
Support emojis – You can use emojis while building fake WhatsApp chat. You can also use your own mobile/device emojis.
The most realistic WhatsApp chat Design – Our WhatsApp chat template is the most realistic fake WhatsApp chat generator having the latest updates of WhatsApp.
Live Preview of your editing – Our tool lets users edit and simultaneously preview the customization done in real-time to make further changes accordingly to your fake WhatsApp chat.
---
Use WhatsApp chat Simulator now and generate your desired content for free.
Disclaimer
This tool is only for educational purpose to help teachers to train their students. This generator is not the slightest bit related with WhatsApp. All graphical material is ensured by the copyright proprietor. May just be utilized for individual use.