Digital marketing strategy is must for any business prosperity. Its required for any business hoping to reach its audience online.
Whether you want to take advantage of social media platforms, use live streaming platforms to promote your eCommerce products, or use your blog to bring in website traffic, you need to have a clear and actionable plan in place.
Lets begin;
What is Digital Marketing?
Promoting your products to sell and increase revenue via digital platforms (online with the help of internet) is called digital marketing. Digital marketing is also called online marketing.
This includes not only email, social media, and web-based advertising, but also text and multimedia messages as a marketing channel.
What is Digital Marketing Strategy?
Digital marketing strategy is a plan that is developed to help the company to achieve its goals by using a range of digital marketing channels. In a nutshell, digital marketing refers to any marketing methods conducted through electronic devices which utilize some form of a computer.
What are Digital Marketing Channels?
There are a lot channels for digital marketing. Following are the most popular channels for digital marketing;
Social media marketing ( Facebook, Twitter, Instagram, TikTok )
Influencer ( Instagram, Facebook, TikToker, YouTuber )
Email Marketing
Search Engine Optimization (SEO)
Pay-per-click (PPC)
Affiliate Marketing
Mobile Marketing
Video ( YouTube )
Why do You Need a Digital Marketing Strategy?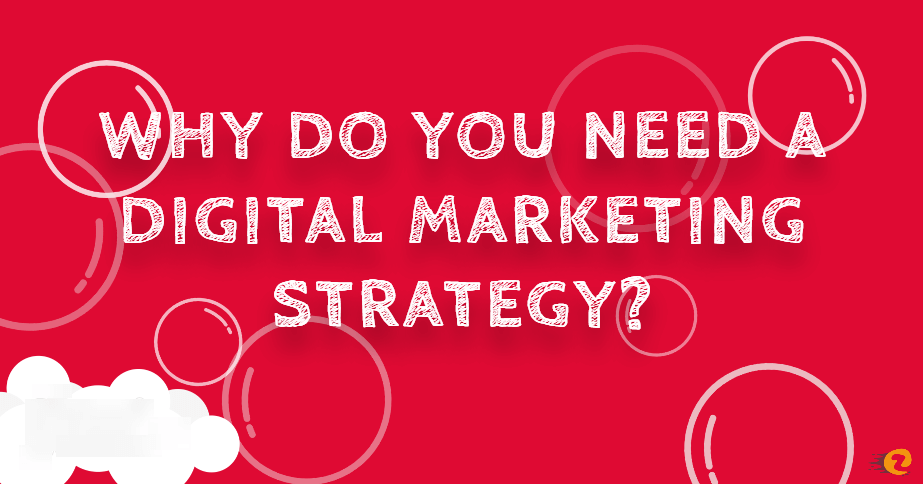 Well to gain success in any field, you need to have a plan. Similarly for digital marketing you need a digital marketing strategy to know what you want to achieve, how you are going to do it, and what metrics for success you are going to use.
It enables you to better understand your market share. Without a clear strategy, you could easily underestimate the demand for your digital services. Digital marketing is important because it connects a business with its customers when they are online, & is effective in all industries.
Without Internet marketing strategies, your business doesn't have a map for achieving its goals or objectives and key results. You know what you want to accomplish, but you don't know how. That often leads to the launch of a digital marketing campaign that fails to drive any results.
If you want to invest in digital marketing, you need to invest in a digital marketing plan.
Build Digital Marketing Strategy in 6 Steps
Now, let's look at six powerful digital marketing steps that you need to perform for your company;
1. Identify Your Audience
This is the first but the main thing that you need to understand while building strategies that you understand and filter out your target audience. Hammering on right point will bring the results.
If you are selling product i.e "Red shinny shoes", then you should be only targeting audience having age between 12yr to 22 yrs. As older person may not like to wear such shoes and if you do not filter your target audience then you may waste not only money but also other resources.
So knowing who is your target market is for your digital marketing will help you to understand;
who you are trying to reach,
where to find them,
and the emotions you need to connect with.
2. Identify Your Goals and Objectives
Another important thing is to find out like what exactly you want for you business growth? Your business will have precious goals & objectives and you should use your digital marketing strategy to achieve them.
Some of the most popular objectives of a business;
Promote brand & Increase brand awareness
Increase engagement on your social media channels
Increase the subscribers and open rate of your email list
Boost visitors to your product landing pages (website)
Increase sales for a particular product
Gain more traffic to your physical/virtual store
So, make your goals specific, measurable, achievable and results focused.
3. Conduct Competitor analysis
The best thing is to understand and keep an eye on your competitor. There is no need to reinvent the wheel. You can look at other businesses in your industry and see what they are doing right and wrong. Take right things from your competitors.
There are lots of tools available to help with this. Obviously you should not copy anyone's digital marketing strategy but it's definitely worth looking around your industry to get inspiration or even learn what isn't working.
4. Define Your Digital Marketing Channels
Now it's time to decide where you are going to promote your business. You should choose your digital marketing channels based on your audience, goals and what works in your industry.
Different channels will work for different goals, such as;
Social media marketing can do brand awareness & send buyers to your sales pages
Email marketing can work for nurturing your leads and retaining your existing customers in touch
PPC advertising can convert people who are ready to be paying customers
SEO can help educate your potential customers about your product
Affiliate marketing can grow your customer base quickly and easily
5. Define Your Content Strategy
In content marketing, your business focuses on reaching, engaging, and connecting with consumers via content. This content, which can include videos, blog posts, infographics, and more, provides values to users. It's not, however, sales-orientated copy — it's informational.
You may have heard the phrase "content is king", and it's true for all digital marketing strategies. Your content strategy should join up all the channels you are going to use and ensure that they complement each other.
For example, your email newsletter should link to the week's new blog post and the Reel you post should connect to the YouTube explainer video that gets uploaded the next.
Your content strategy should also define your visual aesthetic and brand voice, including design templates, your color palette, and whether you write in formal or conversational language. No matter what format you choose for your content, it's critical that it's relevant and beneficial to your audience.
6. Find Ways to Amplify Your Content
This could be through a process of content marketing, which includes building backlinks or asking companies in adjacent industries to refer to your business in their content or share your relevant blog post on their social channels.
You can also use paid ads to boost the reach of your content, for example, you could promote your latest TikTok, Instagram reels, YouTube videos about a cool product feature.
Working with influencers to highlight your recent campaign can help you gain more attention from their audience and drive the action that you're looking for from your marketing campaign.